Welcome to the Mandarin Chinese Course "Go Chinese!"
你好!Nǐ Hǎo
Universal Chinese School is pleased to offer different track of Mandarin Chinese courses for English-speakers. Here are some important key points for your consideration.
The best way to learn a language is to "fall-in-love" with the Mandarin itself.
Keep the fun going if you have a positive starts.
Feeling good about being able to understand Chinese? Why not a bit more effects?
Being able to express yourself while understanding others are the keys to verbal communications is one of your immediate goals!
Encountering everyday scenarios like a pro -: ) Persistence is the way to go!
Being able to convey your personal opinion in a Mandarin allows you to move to the next level.
Students will develop basic skills in listening, speaking, reading and writing in Mandarin Chinese while exploring the Chinese culture in the Canadian context with our online courses. Go Chinese! Listening, Speaking, Reading and Writing in 365 days is the extended course name which involves a balance of fun building, learning experience and commitment. Accompany with the matching skilled teachers, learning attitudes and methods at UAA/UCS, we will help you to get what you dream for.
We have customized study plan based on the group of students register every year. Age above 12+ Every Monday (and/or other weekday) Real-Time … Here are the sample schedule for your reference. Each level Starts on September or October per group preference.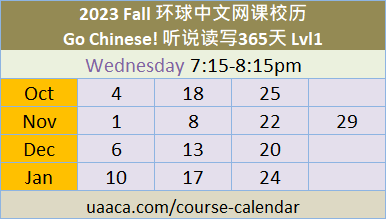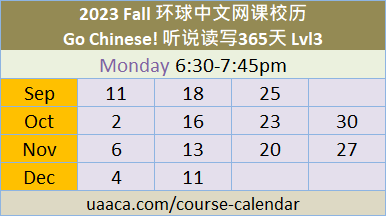 Let's Get Started!
Please fill the "Quick Registration Form" online. The administration staffs will contact you asap. We accept Interac e-Transfer® at this time. If you did not receive our confirmation and payment info within 1-2 business days. please voice/text 604-787-9207 on your application status.
欢迎咨询热线 604-787-9207 或 604-782-9207。
Course Descriptions And Textbooks
Here are the brief description the courses and levels we will introduce through out the "Go Chinese! 听说读写365天".
Textbooks: The entire series of "Learn Chinese with Me 跟我学汉语" is composed of 12 books and other phonetic and listening materials and multimedia materials supplemented to the Student's books. The series can meet the needs of teaching Chinese to middle school students in English-speaking families.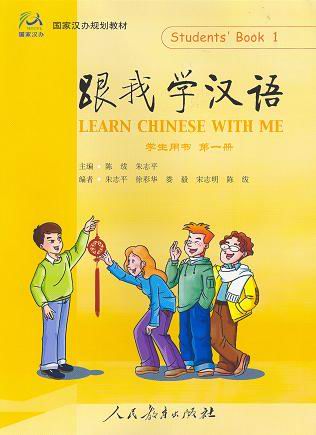 Level 100
An introductory course to Mandarin Chinese incorporating fun classroom activities, field trips, and online practices. The course aims to develop fundamental skills of listening, speaking, reading comprehension, writing, and understanding in the language. Students are expected to have a good command of the pronunciation system, basic grammar, and the ability to be able to conduct a daily conversation in simple Chinese.
Level 200
Continues to polish and develop the core language skills of listening 听, speaking 说, reading 读 comprehension, and writing 写 via instructions and themed in-class activities. By the end of this level, students will be able to communicate in daily settings, such as shopping, or ordering at a restaurant.
Level 300
Aims to build up more complex language syntax while incorporating real-life scenarios. Students should be able to give a short speech about their daily lives and comprehend most of the essential aspects of modern Chinese grammar. The course also incorporates oral practice with Chinese native speakers to help students experience a face to face conversation.
Level 400
Aiming to not only polish one's reading 读 and writing 写 skills, but also focusing on self expression and storytelling via speaking 说 and listening 听. Students will be able to communicate with native speakers in a casual setting. The course also incorporates oral practice with Chinese native speakers to help students experience a face to face conversation.
Note: Each level emphasizes on learning how to act and react during situations such as
shopping or choosing your next residences
looking for a part time job or qualities people have when choosing their significant others
planning to travel abroad via in-class activities and oral practices with native Chinese speakers.
The course incorporates face to face oral practices as an opportunity for students to practice their communication skills.