Universal Chinese School is the division of educational institution of Universal Advance Academy. UCS teaches Mandarin using Chinese script and its Pinyin phonetic system. UAA/UCS promotes appreciation and experience of the Chinese culture and heritage, and to help develop our children into bilingual intellectuals to meet the demands and challenges of North America and the international society.
Universal Chinese School (UCS) has been in operation for 30+ years since September 1991. It is the earliest and the largest Chinese school in the Fraser Valley. The school used to have a branch at VCC (Vancouver Community College). The former principal retired in 2013. The school was taken over by the Universal Advanced Academy (UAA). A series of new measures were put in place to expand its operation by strengthen management and improve the quality of teaching. In partnership with the well-known non-profit organization Hua Xia Multiculture Society, the same year, we launched the Hua Xia Mandarin Program. Then, we immediately opened a new campus in Langley. It soon expanded from less than 100 students to 200 above.
At present, there are schools in the Fraser Heights of North Surrey (16060 108 Ave, Surrey, BC V4N 1M1), White Rock in South Surrey (1785 148 St, Surrey, BC V4A 4M6), Fleetwood Surrey (16065 88 Ave, Surrey, BC V4N 1G3), Langley City (20686 84 Ave, Langley City, BC V2Y 2B5 and 7755 202a St, Langley City, BC V2Y 1W4) and North West Vancouver (1860 Sutherland Ave, North Vancouver, BC V7L 4C2), with a total of six campuses, and more than 400 students.
In North America, our classroom atmosphere is very dynamic. Students will be expected to share their opinion, argue their point, participate in class discussions and give presentations. UAA/UCS is comprised of innovators with backgrounds in education, economics, philanthropy, and business.
Online Initiative and New Learning Experience
We also expend online interactive courses including special needs at different age group and levels to maximize student new learning experience. We are proud to provide educational services to the communities in the region. More importantly, our programs have had a substantial impact on the communities in the region.
The school also organizes various activities regularly, Spring Festival party, speech contest, calligraphy study, presentation skill training and composition contest. UCS often has the school's excellent composition published in the newspaper. At the end of each semester, the school prints commemorative newsletter for students with lists and photographs of the winning students. In the summer, we also often sends selected students over the age of 12 to participate in summer camps in China.
Award and Community Engagement
Both Hua Xia Multiculture Society and Universal Chinese School actively involve in activities and events in the Chinese community as well as in larger society. It is our duty to promote the understanding of Chinese heritage and culture. We encourage and contribute to the cultural diversity in the Greater Vancouver and Lower Mainland in British Columbia, Canada.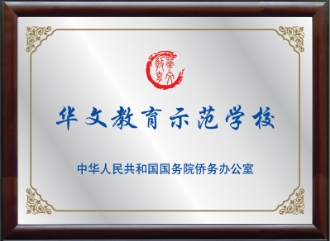 环球中文学校(UCS)是环球高级学院(UAA)的一个教育机构,用汉语书写、文字、拼音系统来教授中文,以促进对中华文化和遗产的欣赏和体验。帮助我们的孩子成长为双语人才,以满足北美和国际社会的要求和挑战。
环球中文学校(UCS)成立于1991年9月,至今已运作了30多年,是菲沙河谷地区最早最大的中文学校。学校曾经在VCC(温哥华社区学院)开办分校。2013年原校长退休,学校由环球高级学院(UAA)接管,并举行一系列新措施扩大招生,加强管理,提高教学质量。与知名非盈利组织华夏多元文化协会合作,同年启动华夏华文教育计划,马上在兰里开办分校。很快从原有的不到100学生扩展到200人。目前,在北素里台湾村,南素里白石镇,中素里和兰里均有学校,总共6所,学生人数超过400人。我们很自豪能够为该地区社区提供教育服务,更重要的是,这些服务已经给该地区的社区带来了实质性影响。
在北美,我们的课堂氛围非常活跃。学生将被期望分享他们的观点,争论他们的观点,参与课堂讨论和演讲。UAA / UCS由具有教育,经济学,慈善事业和商业背景的创新者组成。
体验新时代的学习中文方式 – 结合传统线下教学和网络课程并进, 取长补短, 各得其所!
我们还利用在线网络课程,包括针对不同年龄组和级别的特殊需求,以最大化学生新的学习体验。
本校使用暨南大学华文学院为海外华人子弟编写的《中文》,使用汉语拼音及采用简繁对照教学,使在加拿大出生的学生易于学习。学校的老师都富有丰富的教学经验和爱心。为了保证教学质量学校每年派送本校老师回国参加教师培训课程。
学校还定期举办各种活动,春节联欢,演讲比赛,书法学习,小主持人训练,作文竞赛,常常有学校的优秀作文登载报纸上。学校每年学期结束都给学生印制纪念册,刊登获奖学生名单和相片。夏天也常常派送12岁以上的好学生回国参加中文夏令营。
由于学校抓紧了教学和管理,在2015年,被评为"华文示范学校",目前大温地区包括课后补习等近200所机构,仅4所学校获此殊荣,这实在是各位老师主任辛勤努力的结果。学校的董事会阵容也很强大,杨诺拉校长当年教过的学生凤凰卫视著名主持许戈辉女士是学校的终身董事,著名诗人痖弦是学校的顾问,同在温哥华北岸居住的北京电视台名嘴那威先生也是学校的顾问。
无论是华夏多元文化协会还是环球中文学校,我们都积极参与华人社区以及整个社会的活动,以增进对华夏遗产和文化的了解,并为加拿大不列颠哥伦比亚省大温哥华和低陆平原地区的文化多样性做出贡献。